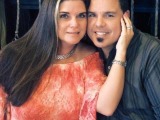 This is a refreshing low fat/low calorie drink from Kraft Food & Family Magazine.
Directions
Place drink mix in large plastic or glass pitcher.
Add water; stir until mix is dissolved.
Stir in ginger ale just before serving.
Pour over ice cubes in eight tall glasses.
Most Helpful
I love this recipe! My local grocery store is pretty limited on the products they sell so I had to alter this just a little. I used diet Lipton peach tea mix (instead of crystal light), I followed the directions on the back to make a 32 oz. pitcher; then I added 2 C. of regular ginger ale. It came out to 35 calories per 8 oz. glass and tasted amazing!

I cut this down to serve one using about 1 tsp of Nerada peach iced tea mix. Very subtle tea flavour with a hint of fizz, nice & refreshing on a warm Spring day, thanks Juenessa.

Refreshing ice tea with a nice peach flavor. Also made this with regular peach tea mix since I have some to finish up and regular ginger ale. Both ways are very good and instead of ice cubes I added some frozen peach slices. Thank you Juenassa for posting!