Sparkling Honey Lemonade in Citrus-Salt Rimmed Glasses
Annacia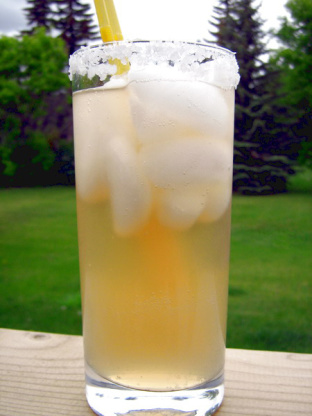 Tangy citrus salt elevates lemonade to new heights in this refreshing drink. A mild honey such as orange blossom would be a good choice to complement the lemon juice. Recipe courtesy of Whole Foods Market.

Utterly delicious. I just happened to have very liquid honey on hand that was a dark amber color and it wasn't really difficult to mix it with the lemon juice without heating it. Once it was mixed I just added the Club Soda to the glass (I made 1 serving) along with the ice and it was ready in about 5-6 mins. I just dipped the empty glass rim in the juice and then the salt to rim the glass. Made for Newest Zaar Tag.
Combine lemon juice and honey in a saucepan.
Heat until honey is completely blended with the juice.
Chill until cold, then stir and pour into a large pitcher. Add cold water and stir to combine completely.
Mix lemon zest with finishing salt in a small dish.
Rub the rim of serving glasses with a wedge of lemon or lime.
Invert glass into dish of salt and turn to coat rim.
Add ice and lemonade. Serve immediately.