Sparkling Berry Jello Salad
Derf2440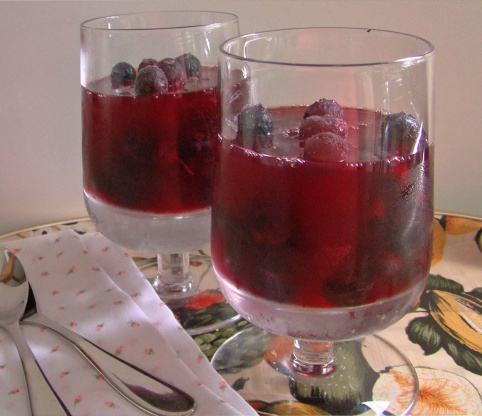 I make this Jello often in the spring/summer. It looks really nice in a mold and sets up great. The fresh berries in the center of the mold makes a beautiful presentation.

This salad was amazing! Easy to make and very good. Everyone loves it. I have made it several times now and there is never any leftovers. I finally bought some creme de cassis and that makes it even better!
Stir boiling cranberry juice (heat in pan) into gelatin in large bowl at least 2 minutes (until well dissolved).
Stir in club soda, liqueur, and lemon juice.
Refrigerate about 1-1/2 hours or until slightly thickened (consistency of unbeaten egg whites-I set my bowl inside a larger bowl of ice water and it takes about 20 minutes).
Stir in 2 cups of the berries.
Spoon into 5-cup mold.
Refrigerate about 4 hours or until firm.
Unmold and top with remaining 1 cup of berries in center.