Spargel - White Asparagus With Easy Hollandaise Sauce
BecR2400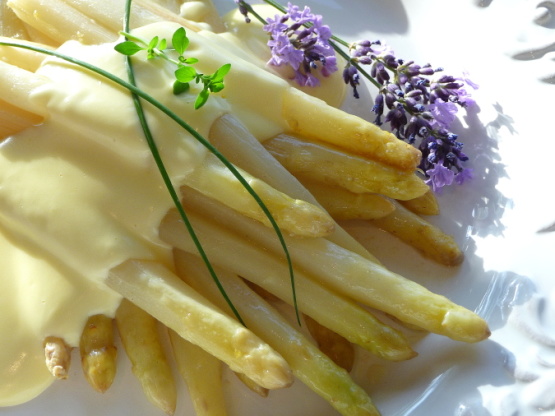 A traditional spring or early summer dish of sauteed white asparagus (spargel), drizzled with a simple warm hollandaise sauce. Pairs beautifully with light, simple spring or summer fare such as slices of premium quality cured ham (try Black Forest ham), sliced boiled eggs and boiled new potatoes served with melted butter and sprinkled with fresh snipped parsley. Or salmon! A nice glass of white wine (such as Riesling), May Wine, or Sekt bubbly rounds out this delectable meal! Prost! This is a great make-ahead dish. Note: White asparagus (German : Spargel) is very popular throughout Europe and is the same variety as green, only it's grown covered in soil (hilling) to prevent photosynthesis. This prevents the asparagus turning green and results in a taste a little sweeter and much more tender. White asparagus must be peeled before consumption. White or green, asparagus is a delightful veggie to be enjoyed at it's peak in the spring or early summer time!

Fabulous! I was nervous about the hollandaise because I'm a bit old-school about sauces. Hollandaise & bearnaise were one of the 1st things i learned to make when i was about 15. It was very good...we decided it was better than Knorr or similar but not quite as good as when cooked in the double boiler. I was excited when it started to thicken but after the next 20 seconds, it broke. A good whisking fixed that. I also added more lemon juice because it wasn't quite tart enough for us. The asparagus is spot on gorgeous. I did find white asparagus & it was a real treat! Thank you! Made for German Tag Contest 5/12,
Warm the olive oil or butter in a large saucepan over medium heat. Add the peeled and trimmed asparagus, lemon zest, and salt & pepper; stir to combine.
Cover and cook until tender-crisp, about 5 minutes, stirring occasionally. Do not over cook.
Arrange on serving platter and squeeze with fresh lemon juice.
Prepare the Hollandaise Sauce: Cut the butter into four pieces and place in a 1-quart glass measure or bowl. Microwave, covered with a paper towel, on high, until almost melted (about 45 seconds to 1 minute).
Remove butter from the microwave and stir until completely melted.
Separate eggs, placing the yolks in a small bowl and setting the whites aside for another purpose. Beat the yolks well with a whisk or fork, then add to the butter and stir well.
Add cream, lemon juice, and sugar to egg mixture and stir well. Microwave mixture, uncovered, on high, until just slightly thick, about 1 to 2 minutes, stopping every 20 seconds to stir with a fork. Remove sauce from microwave and stir in the mustard.
Pour warm sauce over the cooked white asparagus and serve at once. Garnish with fresh snipped parsley or fresh small edible flowers such as violets or Johnny jump-ups, if desired.
NOTE: Sauce may be kept warm for up to 2 hours in an insulated container. Or cool the sauce to room temperature and refrigerate it in a covered microwave safe container for up to 24 hours. To re-warm, cover container with plastic wrap, pierce wrap with a knife to vent, and microwave on 50 percent power until heated through, about 2-3 minutes, stopping to stir halfway through. Do not allow sauce to boil.