Spareribs With a Chili and Cream Sauce
PetsRus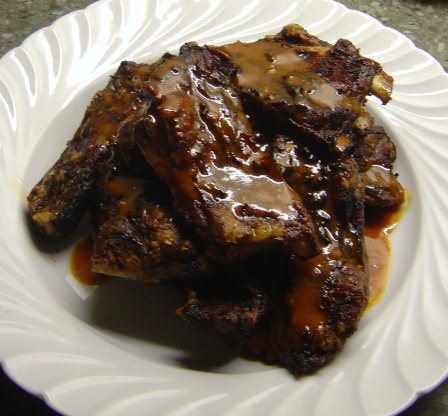 Spice it to your own liking by adding more hot sauce.

excellent sauce for the pork, i made this recipe using 6 pork chops. i browned them on the stovetop about 3 mins per side, meanwhile i prepared the sauce ingredients. i added it to the pan and baked it as directed, but for 20 mins, turned them over and baked for 10 minutes more. i took it out of the oven, removed the chops, heated the sauce to boil and reduced by 1/2, then i added the cream and tomato paste, until reduced. served the sauce over the chops and basmati rice.
Roast the ribs at 400°F for 30 minutes until well browned (I cut the ribs up).
Remove from the oven, lower the heat to 350°F.
Remove ribs from the tin, drain off all the fat, line the tin with parchment paper and replace the ribs in the roasting tin.
Mix together the seasoning mix, garlic, sugar, honey, hot sauce and the water, pour over the ribs.
Cook covered with foil for 40 minutes, uncover and cook for another 30/40 minutes until the ribs are tender and the sauce is reduced.
Put the ribs on a plate and the sauce in a small sauce pan.
To the sauce add two tablespoons cream and the tomato paste, bring to the boil.
Sample the sauce and add more hot sauce and maybe cream.
Drizzle the sauce over the ribs and serve.