Spareribs Sweet and Tender (Crock Pot)
Rita1652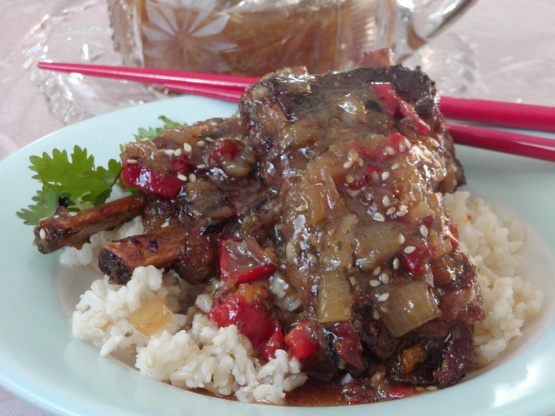 I made this with my Zucchini, Pineapple, Ginger Jam #95600. BUT you can use store bought pineapple jam. These are so tender and tasty. My son couldn't wait for them to brown under the broiler so he ate them right out of the crock pot!

Top Review by LAURIE
We really liked this with a couple of alterations....left off the chiles, personal preference, and only had about 2+ pounds of country ribs that I had to trim considerably. Instead of heating the broiler I popped them on the grill for a couple of minutes per side and basted with the sauce. Best thing was the crokpot part and that they are all gone!! Thanx Rita!!
Rub ribs with salt, pepper dried garlic and ginger.
In a crock pot on low heat add rest of ingredients (except cornstarch) stir to blend.
Add seasoned ribs coat and place top on pot and cook for 6-8 hours on low heat.
Till the meat almost falls off the bones.
Remove ribs and place on a cookie sheet pan line with foil.
Brown ribs just a couple minutes each side under broiler.
Meanwhile mix cornstarch with a small amount of the sauce from the crock pot.
Skim fat if necessary.
Put into a microwave safe dish with rest of sauce with cornstarch mixture and heat in micro to thicken.
Pour over browned ribs or serve on the side.
Garnish with fresh cilantro, sesame seeds, and or parsley.