Peter J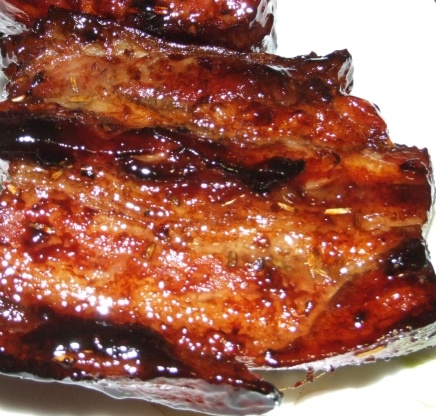 I can't remember where I found this recipe, but to me this is the best pork rib marinade out there. Honey and pork is a winning combination and these ribs are finger licking good.

Great marinade used it for chicken wings too.....for really succulent ribs we marinate then cook in pressure cooker for 10 mins remove from pressure cooker and finish off under grill or on BBQ. Thicken the marinade sauce using arrowroot to baste the ribs whilst on BBQ or under grill ........yum
Arrange the spareribs in a single layer in a nonmetallic dish.
Mix all the ingredients for the marinade together and pour over the spareribs.
If you don't really like ginger that much you may find it a bit over powering and would want to reduce it.
Cover and refrigerate for at least 8 hours or overnight.
Preheat the oven to 190°C and arrange the ribs on the rack of a roasting pan.
Oven roast for 50-60 minutes, basting occasionally with the marinade.
Turn every 10 minutes.
Or just throw them on the BBQ.
Cut the ribs into portions and serve.