Spare Ribs Grilled/Baked Spare Ribs Pierre Lafitte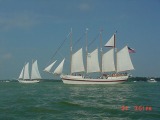 This is/was adapted from The Encylopedia of Cajun & Creole Cuisine. The recipe is attributed to the brother of Pirate Jean Lafitte, who was know for his culinary prowess!
Directions
Rinse the ribs in cold water and drain them well. Slice into 3 inch pieces. Place in a large bowl and season with salt and pepper. In a heavy bottom cast iron skillet over medium heat melt the butter, then add onion and garlic! Saute' 3 to 5 minutes.
Add the jelly,cane syrup and the soy sauce until it is well blended. Reduce the heat to simmer and add ginger,1/8 teaspoon salt, pepper and hot sauce. Remove sauce from heat and pour over ribs, mixing well. Refrigerate for 3 hours minium.
Preheat oven to 350.Spray a cooking sheet with oil and put the ribs on a baking sheet spread evenly and cook for 1 hour.