PaulaG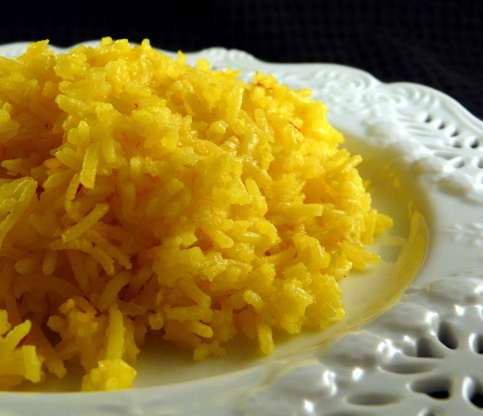 A lovely side dish for those who like saffron. May be made with low-sodium bouillon if you wish.
This was a very good alternative to the boxed yellow rice I usually use to accompany Mexican food. I used American shredded saffron, not really threads or powdered, and I used about 3 pinches. I didn't get a very yellow result (I think probably you'd need turmeric for that deep yellow, and I didn't have any), but the taste was delicious. I also added about 2 Tbsp sweet red pepper, much to my kids' dismay. My husband loved it. I think I'll be using this recipe from now on and scrapping those salty boxes of yellow rice!
Cook rice in oil or butter, stirring, until opaque.
Add salt, saffron and bouillon.
Bring to a boil, immediately turn heat to low, cover, and simmer 16-20 minutes, until rice is tender. (If after 16-18 minutes you find more liquid is needed, add water as necessary, up to 1 cup maximum).