Spanish Tortilla-Ww 2 Pts (Core)
Mgnbos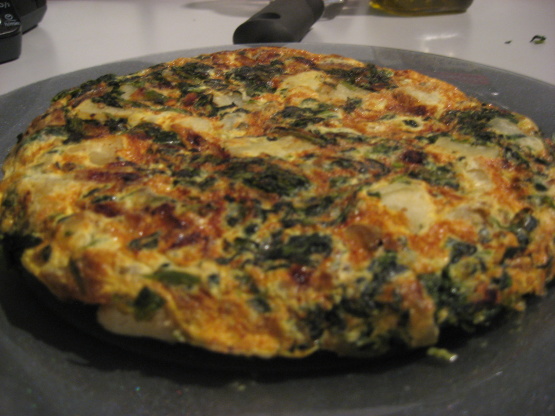 In Spain, tortilla most commonly refers to an omelet, not the flat bread we know. This variation on the classic adds spinach to the basic egg-and-potato combination. Add a tomato salad as a side dish and this would make a perfect brunch dish. It is best served at room temperature. This is a recipe I have yet to try. It is from the Weight Watchers-1996- Cut The Fat Cookbook. Therefore prep/cooking times are approximate. This recipe is 2pts if you are doing Flex, and it is a CORE recipe.

I have this recipe in my Ww cookbook and made it last night. It was a little bland, only because the recipe is bland. I will make it again because it's a low-fat, low-cal side dish that's better then just steamed veggies. I tossed on some Cabot 50% light cheddar cheese (awesome low -fat, low-cal cheese). Next time I might try some fresh grated Romano for some flavor. I was hoping other people could test this recipe and fiddle with the flavor by using different spices and herbs as I am not a creative cook.
9.85

ml extra virgin olive oil

236.59

ml onion, finely chopped

1

garlic clove, minced

283.49

g potatoes, diced and cooked

283.49

g spinach, trimmed, washed, cooked, chopped and squeezed dry (or one 10 oz package thawed frozen chopped spinach, squeezed dry)

236.59

ml fat free egg substitute

14.79

ml fresh parsley, finely chopped

2.46

ml salt

2.46

ml black pepper, freshly ground

1.23

ml dried thyme leaves

1.23

ml ground nutmeg
Place large nonstick skillet over medium heat 30 seconds.
Add oil; heat 30 seconds more.
Add onions; cook, stirring often until the pale gold, about 7 minutes.
add garlic; cook 1 minute more.
Add potatoes, spinach, egg substitute, parsley, salt, pepper, thyme and nutmeg.
Reduce heat to low.
cover and cook until set and browned on bottom, about 10-15 minute.
Loosen edges with knife and turn out onto warm platter, or serve directly from skillet.