K9 Owned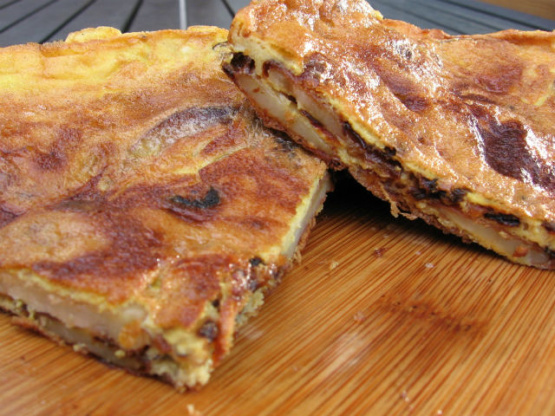 This simple dish can be served as part of tapas or as a light lunch.

I have never met a potato I didn't like and this is no exception! I made it exactly as written and would not change a thing. I used it as a side dish at dinner but kept going back for 'just one more sliver' right up until bedtime. There is none left and I should be ashamed. I'm not - it was delicious! Made for the Bistro Babes - ZWT 8
Heat the oil in a 10 inch non-stick skillet over high heat.
Then lower the heat and add the potatoes, onion, and garic, and cook for 15-20 minutes, stirring frequently, until the potatoes are tender.
Beat the eggs in a large bowl, and season generously with salt and pepper.
Using a slotted spoon, transfer the potato mixture to the bowl of eggs.
Pour off the excess oil, reserving 3-4 tbsp of it, and scrape away any crusty bits from the bottom of the pan.
Reheat the pan and add 2 tablespoons of the reserved oil.
Pour in the potato mixture, smoothing it down to make an even layer.
Cook for about 5 minutes, shaking the pan occasionally, until the bottom is set.
Shake the pan and use a spatula to loosen the sides of the tortilla.
Place a large plate over the pan, and carefully invert the tortilla onto the plate.
Add about 1 tablespoon of the reserved oil to the pan and swirl around.
Gently slide the tortilla into the pan, cooked side up, and use a spatula to tuck down the sides.
Continue cooking over medium heat for 3-5 minutes, or until set.
Remove the pan from the heat and slide the tortilla onto a serving plate.
Let it cool for at least 5 minutes before cutting.
Can serve hot, warm, or at room temperature with a salad.