Spanish Tapas - Grilled Goat's Cheese on Bed of Lettuce
K9 Owned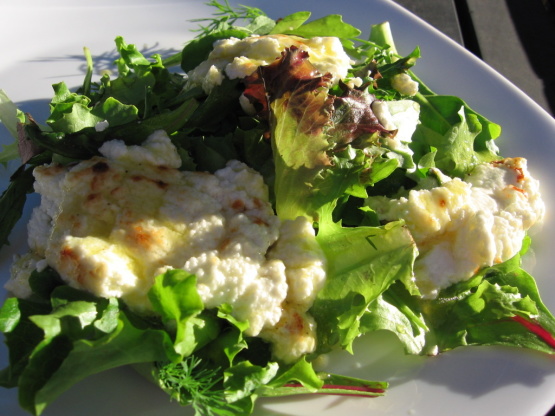 Spanish Tapas - A simple dish of grilled goat cheese and baby greens, dressed in a honey vinegar vinaigrette

We loved this salad and I am going to be using this dressing for many other salads this summer. I read the reviews where the goat cheese melted so first I chilled the rounds very well and made sure that the broiler was blazing before I grilled them. They still melted down quite a bit but like the others I didn't mind one - the taste more than made up for any lack in presentaion. Thanks for sharing! made for the Bistro Babes - ZWT 8
11

ounces goat cheese

1

tablespoon oil

4

cups Baby Spinach (or mixed baby green)

Vinaigrette

1⁄2 cup virgin olive oil

3

tablespoons sherry wine vinegar

1

tablespoon honey
salt and pepper
Set oven on grill.
Vinaigrette: Dissolve the salt, pepper and honey in the vinegar and beat in the virgin olive oil until an emulsion forms.
Cut the cheese into 3/4 inch thick slices and grill in oven until golden.
Place baby greens on plates, dress with the vinaigrette and add the cheese on top.