I love this cold served bean salad, it is even better after a day or so of marinating. If you don't like lima beans, substitute chickpeas.
Directions
Soak beans in plenty of water overnight, then drain, Add the beans to a pan of boiling water, simmer covered over medium heat for 35 to 45 min until tender not mushy (time will depend on the size of the beans and soaking time) Drain.
Whisk olive oil, vinegar, paprika salt and pepper together.
Combine beans with remaining ingredients and toss with dressing.
Marinate at room temperature at least one hour before serving.
Can be refrigerated overnight before serving and the garlic flavor will be stronger.
Most Helpful
This was a fantastic, flavorful salad that is a great change of pace from typical bean salads. I didn't want to use dried lima beans and couldn't find any frozen ones, so I ended up using shelled edamame, which worked out perfectly. The rest of the recipe I followed exactly (except I didn't slice the olives, since they were pretty small to begin with). Great combination of flavors! Thanks for sharing this keeper (and hopefully I can find frozen lima beans one day)!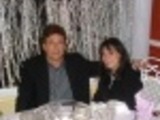 Excellent Salad. I made this with a 12 oz. package of frozen lima beans that I cooked first. Very easy to put together. The garlic and olives really make this tasty. I bet it would also be good made with edamame instead of the limas.
made this with canned chickpeas, and it's super easy and tasty. Thanks.