Spanish Style Tomato With Ham or Cheese Sandwich
twissis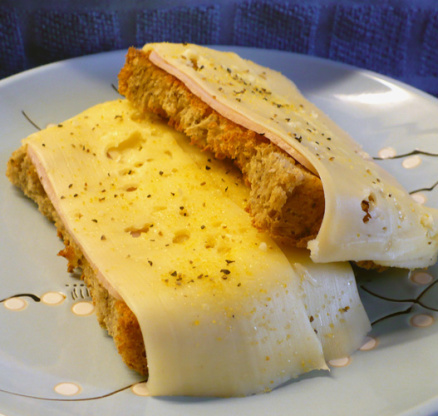 This is a favorite breakfast dish in Spain. It works nicely for lunch and tapas too. It's so easy to make. And kids really like have fun with this. The most important thing is to have fresh ingredients. You can leave out the ham or the cheese or both if you wish and it will still be completely delicious. Make sure to use dry-cured ham. And paper thin slices. The cheese and ham slices, if used, should be thin enough that the taste of the bread, oil and tomato shine out.

Made for ZWT-8 & enjoyed for my lunch today, I kept the heart of your recipe intact & was consistent w/the Spanish cuisine, but I do admit to a cpl of pers pref chgs. I used lightly-toasted slices of Recipe #370910 by mersaydees (another ZWT effort). Never very good at drizzling things, I brushed them w/olive oil using a sml pastry brush. Then I added the ham cheese & sprinkled generously w/lemon pepper (a pers fave on just about everything). No wonder the Spanish are so fond of this breakfast sammie - it's tasty. I also think it would make an excellent hot open-face sammie if heated in the oven til the cheese starts to bubble. Yum! Thx for sharing this recipe w/us. :-) Edited to Add: Only after the sammie was gone & I was well-fed did I notice that none of the lovely tomato showed in the pic I chose to post. :-(
Cut roll in half.
Lightly grill or toast roll so it gets a bit brown on top.
Drizzle olive oil on the bread.
Take the tomato in your fist, and holding it over the bread, squeeze it so that the pulp comes out. Continue squeezing so that the pulp goes all over the bread. If you don't like the idea of doing this, you can put the pulp into a container and spoon it onto the bread.
Repeat on other side of the bread.
Top each half with a thin slice of cheese, if desired.
Top each roll half with an extremely thin slice of dry-cured ham if desired. (The slice of ham should be so thin you can see through it).
Enjoy.