Mand1642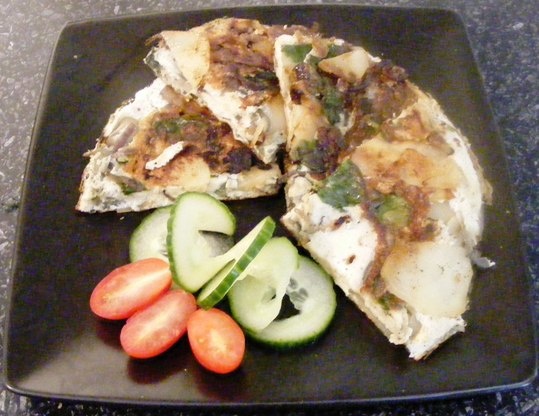 A tasty looking Spanish inspired recipe I found in a back issue of BBC Good Food Magazine

Seems like you and I like to check the same sources for recipes! I made this for dinner one evening to use up a box of baby spinach I had in the fridge. It made a nice, light dinner served with fresh bread and a salad. The only changes I made were to make it with egg substitute, since I have cholesterol issues, and I cooked it in the oven so as not to have to flip it. It still turned out wonderful. I will definitely make this again.
Tip the spinach into a large colander and bring a kettleful of water to the boil.
Slowly pour the water over the spinach until wilted, then cool under cold water. Squeeze all the water out.
Heat grill/broiler to high.
Heat the oil in a non-stick frying pan and gently cook the onion and potato for about 10 minutes until the potato is soft.
While the onion is cooking, beat the eggs together in a large bowl and season with salt and pepper.
Stir the spinach into the potatoes.
Pour in the eggs and cook, stirring occasionally, until nearly set.
Flash the omelette under the grill/broiler to set the top.
Ease the omelette on to a plate, then flip over back into the pan.
Finish cooking the omelette on the underside and turn out onto a board.
Serve cut into wedges.