Spanish Scrambled Eggs With Pimenton and Asparagus
Bergy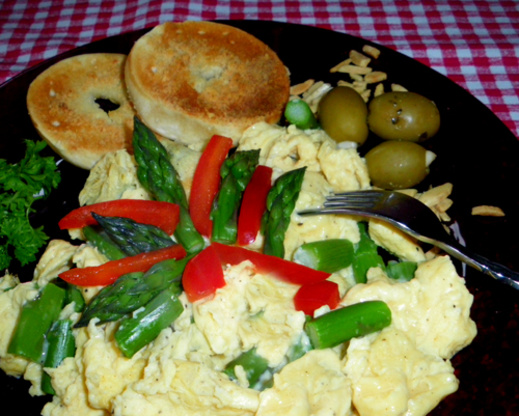 Huevos Revueltos Con Esparragos - this traditional Spanish recipe is usually made with wild asparagus - but very tiny sprues will work equally well. This delicious and very indulgent light supper dish will feed four people with side dishes and crusty bread, or two greedy people! It is also excellent served as a Tapas dish - make sure there is lots of bread to scoop it up with!
Trim the woody ends from the asparagus, removing tough fibrous outer layers from the stalks if they are large - a potato peeler is good for this.
Cut the asparagus into 1" lengths - setting aside the tips.
Bring a pan of water to the boil and boil the asparagus for 2 to 4 minutes - excluding the tips; add the tips and boil for a further 2 minutes.
Drain carefully - the asparagus should be just tender but not too soft.
Beat the eggs with the spices and seasonings.
Warm the olive oil with the butter in a large roomy pan - over a moderate heat.
When the butter has melted and the oil is sizzling, add the beaten eggs.
Stir for 1 minute with a wooden spoon, then add the asparagus. Cook for a further 1 - 2 minutes, until the eggs are just set.
Serve at once, sprinkled with pimenton, crusty bread and side dishes of olives, almonds and choritzo.