Bergy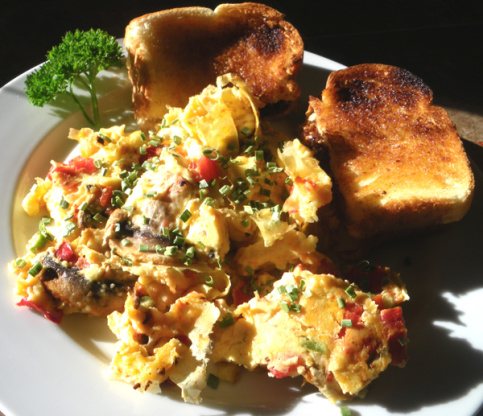 Southern Living; family favorite

I made this for dinner the other night. Without a doubt, the best scrambled egg dish I have ever eaten. This has a very full bodied flavor. We really liked the oniony taste. Also the cayenne gives it some sizzle and heat. This is a very colorful dish which lends to its eye-appeal. Thank you for posting this. A real winner.
Cook bacon in a large skillet.
Remove bacon; crumble and set aside; discard drippings.
Combine eggs, chiles,pimento, salt, and peppers; set aside.
Saute onion, tomato, and mushrooms in butter until tender.
Add egg mixture; cook over medium heat, stirring often, until eggs are firm but still moist.
Spoon onto serving platter; garnish with crumbled bacon.