BecR2400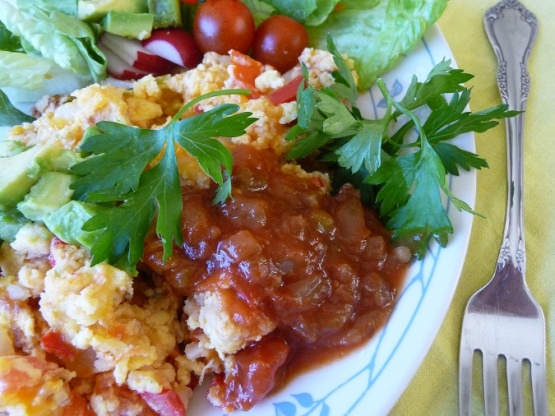 Spanish style egg scramble is good for breakfast, brunch, lunch or brinner (breakfast for dinner). Enjoy! Serve eggs hot from the frying pan and top with salsa and avocado. Good sides are a tossed green salad and toast or warmed tortillas.
Preheat large skillet on low heat.
Add olive oil to coat.
Add butter to pan and saute chopped bell pepper, green onions, ham, and potato over medium heat until softened. Add the chopped tomato and heat through.
Scramble the eggs with two tablespoons of salsa (or water) and season with pepper; pour scrambled eggs into the pan, reduce heat immediately to low and cook stirring occasionally for about 5 minutes or until eggs are almost set.
Add cheese and remove from heat once cheese has melted.
Serve hot with salsa and avocado.