vrvrvr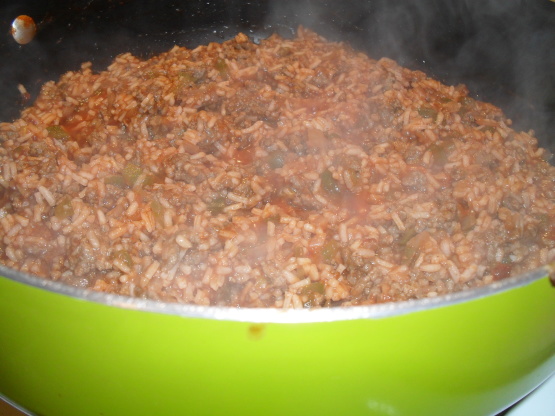 My Mom used to make this, and I found her recipe - it's from a 1968 Minute Rice calendar as September's feature. I've made a few changes though - using a little olive oil instead of 1/4 cup of fat like the original recipe, and adding 1 can of tomatoes and 1 small can of tomato sauce, sometimes I use black olives instead of green ones or both. This is a quick and hearty dinner, excellent with a salad.

Top Review by vrvrvr
Love the old Minute Rice recipes! (My mother in law makes Country Pie -- another Minute Rice classic). This Spanish Rice Pronto was great. Easy, flavorful, filling. What more could I want? I couldn't resist adding a pinch of crushed red peppers to the mix. I served this with roasted pine nuts-and-cauliflower, corn and crusty bread. My husband had just come in from a mountain bike ride and started scarfing this down. Truly enjoyable! Thanks for posting this.
Heat oil in frypan and saute onion and green pepper till just soft, then add ground beef and break up as cooking so it is well crumbled.
Cook meat very well& drain fat if any.
Add tomato sauce and hot water, salt and pepper- bring to a boil.
Once boiling add in Minute Rice, stir, reduce heat and simmer uncovered for 5 minutes.
Garnish with sliced olives.