Spanish Rice - Great Alone or for Stuffing
Derf2440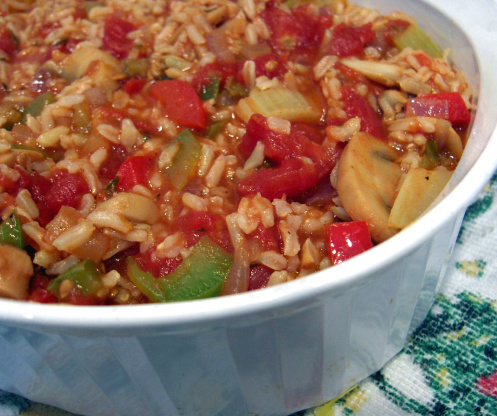 My wife made this today and for me who doesn't like rice, it was great. It lends itself perfectly to stuffing into baked peppers or baked onions or even cabbage rolls. It's great on it's own as well.

My husband loved this; he had brought home some fresh local shrimp and wanted a red rice & shrimp bake~well I used your recipe for the rice and added the raw, cleaned shrimp and layered an 8oz package of swiss cheese to the mixture. I covered it with foil for the same amount of time and he could not believe how delicious it was! Thank you, for such a great recipe!
Heat butter in frying pan and fry onion, green pepper, celery and mushrooms until tender.
Add tomatoes, salt and pepper.
Simmer slowly for 10 minutes.
Stir in 2 cups cooked rice.
Turn into buttered 2 quart casserole.
Bake in 375 degree oven for 25 minutes, or until bubbling.
More tomatoes or tomato juice may be added if desired.