Redsie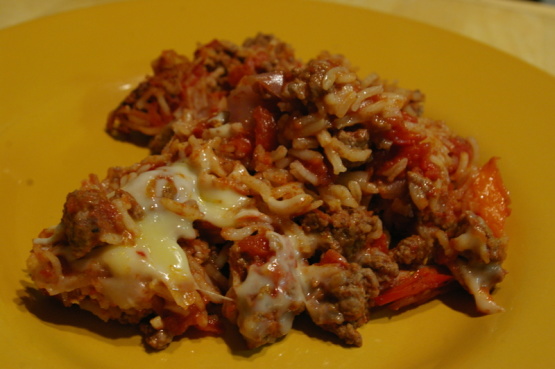 This is easy and very tasty, it's good served hot or at room temperature for a side dish, or as a main meal. All ingredients can be adjusted to taste. Add in finely chopped jalapeno pepper or crushed chili peppper for some heat.

Kittencal, I had to change this recipe and don't like to make major changes to your recipes, however I did not have chili sauce so I used some of your enchilada sauce Recipe #168653 I had made for another recipe and frozen. Otherwise I followed the recipe and added the fresh cilantro and green onions on the top of the casserole. My BF loved it! It turned out great. Thank you and next time will make sure I have chili sauce.
Set oven to 375 degrees.
Grease a 2-quart casserole dish.
In a large skillet, brown the ground beef over medium-high heat; drain the fat, and transfer beef to a large pot over medium low heat.
Stir in onion, garlic green pepper, tomatoes, water, rice, chili sauce, salt, pepper, brown sugar, cumin and Worcestershire sauce.
Let simmer for about 30 minutes, stirring occasionally, then transfer to a 2-quart casserole dish; press mixture down firmly.
Sprinkle with grated cheddar cheese.
Bake for 10-15 minutes, or until cheese is melted and bubbly.
Garnish with fresh cilantro if desired.