Spanish Rice and Prawn One Pot
JustJanS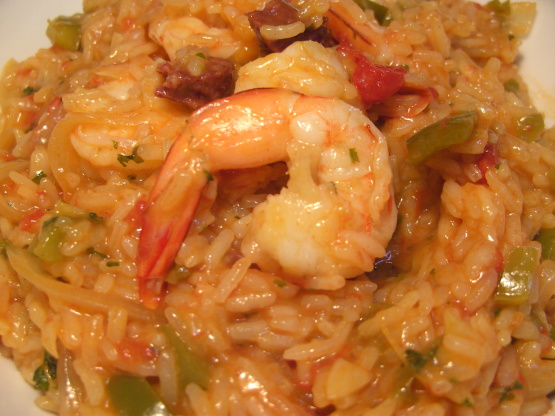 This recipe from BBC Good Food is a quickie version of paella. It is made with basmati rice which shortens the cooking time considerably. It is a great recipe for a weeknight meal and it reheats well. In fact, it tastes better the second time around!

I made this for our dinner last nightI used stock instead of water and without scales with me as I travel, guessed 1 cup of rice would need 2 cups of water to cook it. That worked just fine. We had tabasco and lemon juice at the table and these really lifted the dish.
In a non-stick frying pan, fry the onion, peppers, chorizo and garlic in the oil over high heat for 3 minutes.
Stir in the rice, tomatoes and boiling water.
Cover and cook over high heat for 12 minutes.
Uncover and stir - the rice should almost be tender at this point.
Stir in the prawns, with a bit more water if the rice looks dry.
Cook for another minute until the prawns are just pink and the rice tender.