This came from a Betty Crocker cookbook. It's simple and really great.
Directions
Heat oil in 10" skillet over medium heat.
Cook rice and onion in oil about 5 min.
Stir frequently, until rice is golden brown and onion is tender.
Stir in remaining ingredients.
Heat to boiling, reduce heat to low.
Cover and simmer about 30 min.
Stir occasionally, until rice is tender.
Most Helpful
I've gotta give credit to this recipe. My husband is not a big fan of spanish rice and I made this for him once hoping to maybe change his mind.....he loved it! He has told me twice now that I can keep this recipe. I added a little more chili powder and garlic and also added a can of diced green chilis too. Got numerous compliments from friends and family when I made it last night!
I've used this recipe, or a similar one for years. Very easy and consistantly delicous. I added some chopped bell pepper to mine. Pam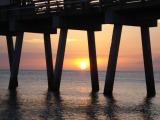 My husband, who usually doesn't like spanish rice, loved this but I agree with reviewers that it needs tweaking. I lightened up on the chili powder since I had the hot kind & used onion powder for the onions. Cheddar might hlep for next time & maybe some minced garlic. I will certainly work with this. Thanks!