KristinV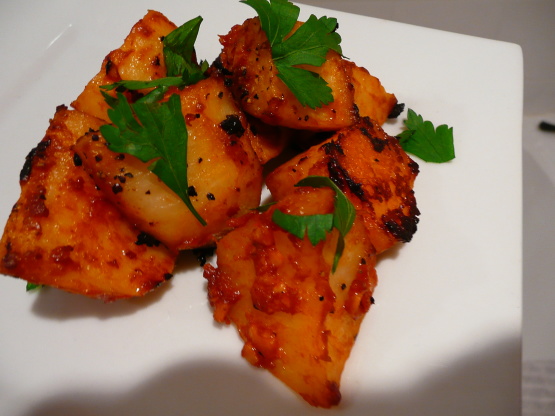 A Spanish inspired recipe that I found in a back issue of BBC Good Food Magazine.

These were very good. I only made a slight change. I added a teaspoon of oregano and 3 extra cloves of garlic, but that is due to the fact that we love garlic. They came out wonderful. We had it with the cheese stuffed meatloaf it was a wonderful meal.
Heat oven to 375 degrees.
Mix the oil, tomato paste and paprika together, then coat the potatoes thoroughly in it.
Squash the garlic in its skin with the flat of a knife and place on a baking tray with the potatoes.
Season well with salt and pepper, then roast for 40 minutes, turning halfway through, until the potatoes have crisped up and are fluffy inside.
Five minutes before the end of cooking, sprinkle over the lemon juice and return to the oven.
Serve with the parsley scattered over.