Spanish Potato Omelet (Tortilla De Patatas)
pammyowl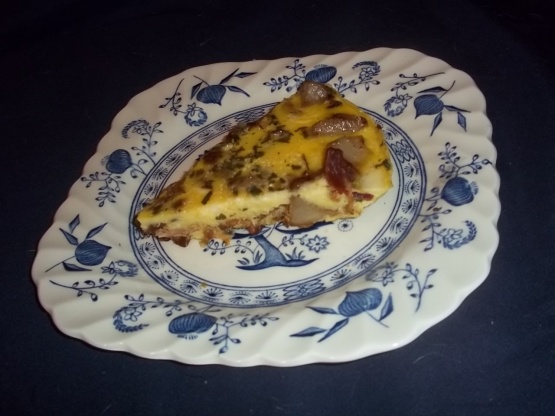 The Spanish word fro Omelet is Tortilla, although it is nothing like the Mexican tortilla! A quick, delicious Brunch or weekday dinner doesn't get much easier than this! Zaar World Tour 8
Fry bacon in 10 inch skillet until crisp. Remove bacon, drain all but 4 tablespoons of fat from pan.
Add potato and onion, cook and stir until the potatoes are tender and golden, about ten minutes.
Whisk eggs with salt and pepper.
Add the bacon back to the pan, add eggs.
Cover with lid and cook on LOW until the eggs are set, perhaps 10 minutes more. Garnish with parsley.
Cut into wedges and serve.
Be sure not to overcook, it will get rubbery! Eggs cook themselves even after they are off the heat, as I'm sure you know.