Debi9400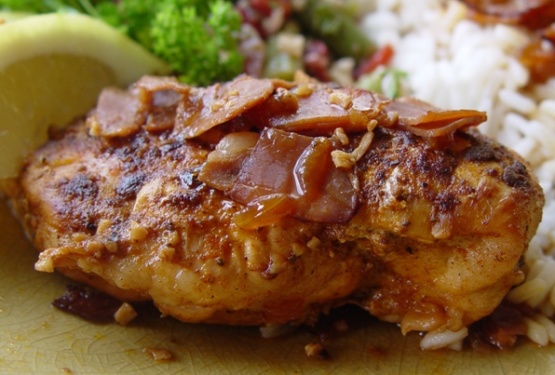 This is one of our standby chicken recipes that we always seem to come back to because we all enjoy it. I got the recipe from a supermarket flyer once. It has a brothy sauce and the meat is always juicy with Spanish flavors. This goes great with mashed potatoes and a salad.

This is a really good comfort meal. I couldn't find serrano ham so I substituted smoked black forest ham. Like the other reviewers, I used a Vidalia onion. The highlight of the meal was definitely the pan juices, which could easily be thickened up into a gravy. I served it with some rice, which soaked up all the sauce but it would also be good with potatoes. Next time, I'm going to skip the lemon because the lemony taste did not really go with the rest of the flavours and both my DH and I thought it was odd. Will definitely do this again though on a rainy day.
Place chicken breasts in a shallow dish.
Sprinkle with lemon zest and drizzle with lemon juice.
Turn to coat well, cover and refrigerate for at least 1 hour or up to 4 hours, turning occasionally.
In a small bowl mix paprika, thyme and half each of the salt and pepper.
Remove the chicken from the lemon juice, shake off the excess juice and pat dry with paper towel.
Rub the paprika mixture evenly over chicken breasts and set aside for about 10 minutes.
In a large non-stick skillet heat half the olive oil (1 Tbsp) over medium high heat and brown the chicken breasts on both sides until golden brown.
Remove the chicken from the pan, add the rest of the oil, ham, onion and garlic to the pan and cook stirring for about 5 minutes, or until the ham is becoming crisp.
Add the wine and bring to a boil.
Cook stirring for about 3 minutes or until the wine is almost evaporated.
Add the chicken stock and remaining salt and pepper, stir to combine.
Return chicken breasts to the skill and bring to a simmer. Cover and cook for 20 minutes or until chicken is no longer pink and juices run clear when pierced.
Sprinkle with parsley before serving.
Enjoy.