loof751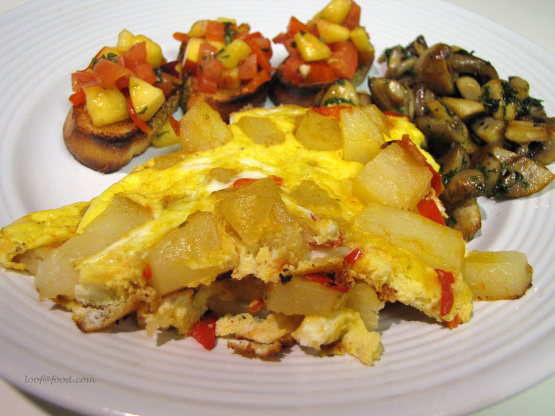 Found on alleasyrecipes.com. Posted for ZWT8- Spain/Portugal.

Loved this tasty and hearty omelette! The peas I thought I had were nowhere to be found so I had to leave them out, but will definitely add next time. I used leftover recipe #482969 for my potatoes and the flavors were terrific. Thanks for sharing your recipe! Made for ZWT8, Chefs gone WILD!
Peel, slice and chop the tomato, dice the potato, and cut up the pimientos.
Chop the onion and fry it lightly in a little olive oil; add the peas, tomato, potato and pimientos, and continue cooking for a few minutes, stirring all the time with a spoon.
Beat the eggs, season well, and pour into the pan.
Cook the omelette shaking the pan occasionally. When one side is lightly and evenly browned, cover with a plate to turn the omelette, and cook the other side. Do not fold.
Serve hot, with tomato sauce.
Tip: This omelette is also delicious when served cold, and it is a favorite picnic dish in Spain. The omelette is left to get quite cold and is packed between 2 plates in the picnic basket. To serve, cut and place between slices of bread or rolls and butter, accompanied by salad.