Baby Kato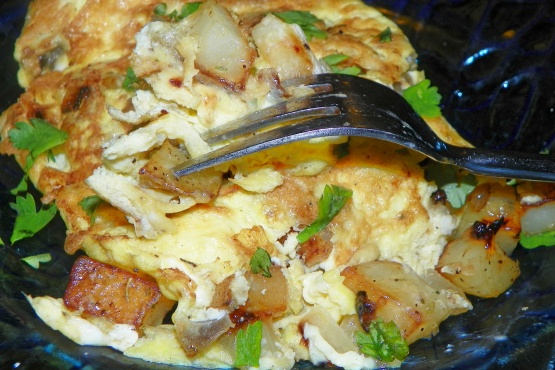 Found this recipe on the internet. It had ingredients that I like and was stated to be a typical spanish omelette. Update: This is just the basic start, use this and then add seasonings, vegetables and meats and/or cheeses to suit your taste. After cooking it you might want to add ketchup, salsa or hot pepper sauce, be creative!!!!

Dear all, I'm a Spaniard chef and would like to share with you some tips about making a good Spanish potatoes omelette. First of all, forget about cutting the potatoes into small cubes . . . the right way to do it is cutting it into very thin slices and fry them very slowly in extra virgin olive oil. It depends on your own taste but, I prefer to fry them until they are soft tender but not toasted. I also usually add the onion (when I do it) at begin. You might do it with or without onion. With onion will be more juicy but, I prefer to do it without. Also, you might like to eat it fresh made when still warm which is very good but do not hesitate to keep it for next day and eat it cold, you will enjoy it even more. ?Tortilla de patata? (Spanish omelette or Spanish potatoes omelette) makes a perfect picnic for eating outdoors and it is easy to transport even in a simple lunchbox in your backpack. You might also carry it for a lunch at your work site. To give ot your own touch or make different versions and styles you might add to the blend of potatoes and eggs some ?chorizo frito? fried green or red peppers (or both together), fried Iberian ham, shrimps, green peas, carrots, etc. Easy and taste recipe . . . hope you enjoy it!!
Peel potatoes.
Cut potatoes and onion into small cubes.
Add salt (to taste) to potatoes and fry them until they are lightly crunchy. in olive oil.
About the last 5 mins of cooking add the onion to the potatoes. When tender, transfer potatoes and onion to papertowels to drain.
Beat the eggs with a pinch of salt.
Lightly coat frying pan with olive oil. Add the eggs, potatoes and onions and cook over low heat, flipping omelette once to cook other side.
Cooking is a creative process, and this recipe lends itself to your creativity! Add spices, herbs, meats, veggies and cheese to your taste. This is just the base to a Spanish omelette!