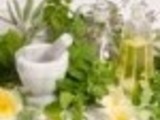 Spain and olives join for a wonderful salad!
1 large boston lettuce, separated
1 1⁄2 red onions, cut into 8 thin slices
16 large Spanish olives with pimento, sliced
2 red peppers, cleaned, seeded and sliced into 8 rounds
4 large mushrooms, sliced
1 large navel orange, peeled, sliced into 6 rounds, then halved
1 small cucumber, scored and sliced
1 cup bottled vinaigrette dressing
Directions
Divide all ingredients (except dressing) evenly onto 4 plates.
Arrange creatively; top with dressing.
Most Helpful
Really delicious salad. I used Raspberry Vinaigrette, omitted the mushrooms, and added sugar coated pecans and craisins. Totally devine!
This is really scrumptious! The flavor doesn't really translate as sweet the may oranges and mushrooms can in a spinach salad. Instead, it has an exotic and savory flavor that oranges don't usually find, but it really works here. We definitely will make this again, with Spanish food, as well as Moroccan food, (which I think would pair with this as well). Made for the Saucy Senorita's ZWT5.

I LOVED this salad. It is colorful, has a nice variety of ingredients, and tastes good. It would be an excellent choice for a summer potluck. I used a favorite purchased sweet onion vinaigrette and we both raved. This will be a repeat!