Spanish Olive & Cream Cheese Canapes (Zwt-8)
flower7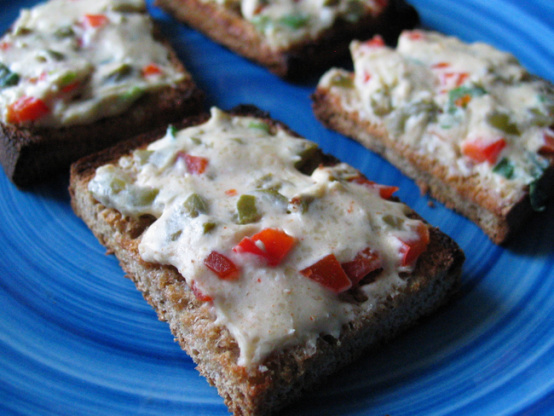 Found at epicurious.com when I went looking for Spanish olive recipes. I love using Spanish olives & I hope you will as well. This recipe is simple, but the best part of it is the option to do nearly everything a dy ahead. Only the final step of broiling the canapes needs to be done just prior to serving if you choose the day-ahead option (Pls note my tip at then end of the prep steps). *Enjoy!*

Delicious! I used Neufchatel and wheat bread. Since I was just making for myself, I didn't bother with bread rounds (just cut each piece of bread into quarters). The first one I made, I read the instructions wrong and broiled for too long so the bread burned on the edges, but it still tasted good! LOL I won't make that mistake again though ;) Thanks for sharing!
Put oven rack in middle position & preheat oven to 375°F
Cut 40 sml rounds from bread slices w/cutter, then brush 1 side of ea round w/butter & bake on a lrg baking sheet until pale golden (about 8 min). Remove from oven, but leave toasts on baking sheet. Preheat broiler.
Finely grate Parmigiano-Reggiano using rasp (yield = approx 1 cup). You may use a pre-grated variety if able to find.
Mash together cream cheese, olives, scallion, bell pepper, paprika & sherry until combined well. Then top each toast w/1 tsp cream cheese mixture & sprinkle w/grated Parmigiano-Reggiano.
Broil canapés about 4 in from heat until Parmigiano-Reggiano begins to turn golden (about 1 min).
COOK NOTES: Toasts can be made 1 dy ahead, cooled completely & then kept in an airtight container at room temperature. The cream cheese mixture can be made 1 dy ahead (chill & cover). Bring to room temp before using.
MY TIP: My choice would be to brush the bread slices while still whole & then cut the rounds. This would mean far less time spent handling 40 sml pieces of bread.