Spanish Mushrooms and Eggs
Sageca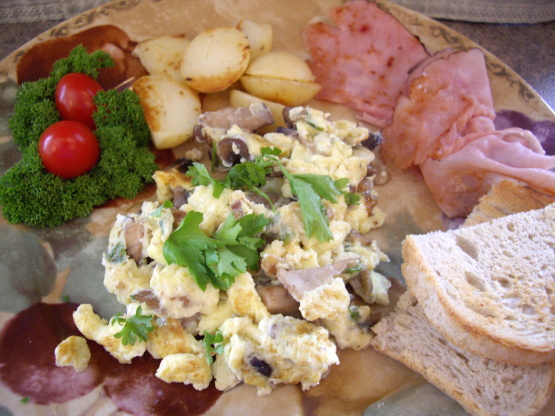 Mark Bittman says in his book, "The Best Recipes in the World," that this is a Spanish tapas recipe. It looks like a good *meal* to me! That are pretty garlicky. If they're going on toast/crostini, that might be fine, but if you're just eating them as scrambled eggs, like I did, it was a bit much. If you eat them that way too, please titrate the garlic to your garlic-luvin' level. :o)

I used both button and shiitake that needed to be used and green onions. Also had some fresh frozen parsley and used eggs. This was a nice, different way to have eggs (for us). Kids liked it too. The garlic level was fine. Made for Fav's of 2009 tag.
Remove stems from mushrooms and chop the caps. Throw away the stems or save for some other use, like a soup or stew.
Put oil in large skillet, preferably nonstick. Turn heat to medium. Add garlic and shallots. Cook, stirring, until softened and fragrant, about 1-2 minutes. Stir in mushrooms and half the parlsey. Cover and cook until the mushrooms are soft, about 5-10 minutes.
Meanwhile, beat eggs with the milk. When mushrooms are done, turn heat to low and stir in the egg mixture. Cook, stirring occasionally, just until the eggs are set. Season with salt and pepper.
Spoon on top of crostini or toast. Garnish with remaining parsley.