Annacia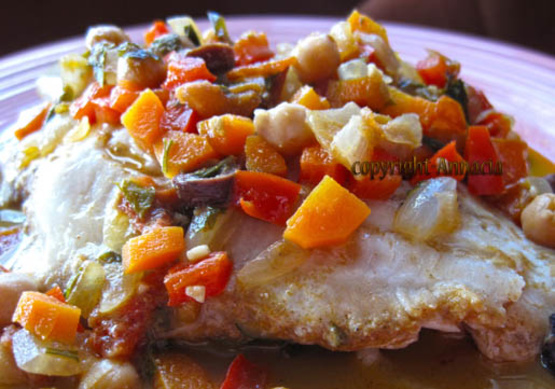 This recipe was submitted to the Allrecipes.com website by MaryJane. This is her introduction. "This Moroccan recipe was passed down for generations in my family. We usually serve it on the Sabbath night and holidays. It is a favorite! This dish may be served hot or cold according to taste."

Without this great veggie combo this would just be steamed fish. With it, the dish really shines because the flavor of the veggies and spice IS the flavor as the fish really has none on it's own. Didn't have tilapia so used a thicker white fish and it was fully cooked at 25 mins. Yum.
Heat a large skillet on medium-high heat. Add the oil, then cook and stir the onion and garlic, until slightly tender.
Add the bell peppers, carrots, tomatoes, olives, and garbanzo beans.
Continue to cook until the peppers are slightly tender.
Sprinkle the parsley, paprika, cumin, cayenne, and chicken bouillon over the vegetables.
Season with salt to taste.
Stir to incorporate.
Place the fish on top of the vegetables and add enough water to cover the vegetables. Reduce the heat to low, cover, and cook for 40 minutes.