Spanish Lentil Soup With Chorizo
samrunge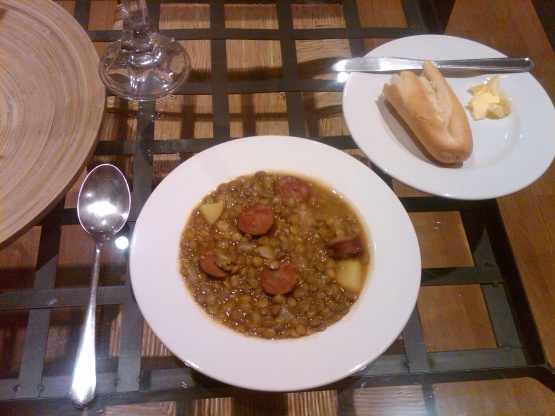 When I first arrived in Córdoba, Spain to study for a year, the cook in my dorm served this, my first lunch in my new home. I had never had lentils before, but this dish quickly became my absolute favorite. My additions to the recipe are the garlic, onion and potato; I tried carrot once but I overcooked it and was traumatized by the mushiness, so I haven't done that since. The best part about this recipe is it costs less than $10 to make and feeds many.

This recipe is very simple. Make sure you add a bit more water than the recipe calls for or else you won't have a soupy consistency. I added a bit more garlic and pepper to mine to give it a bit more flavor. Otherwise a very low key meal to make during the week.
1 1⁄2 cups dry green lentils

2

tablespoons olive oil

1

small onion, chopped

1

garlic clove, minced

2

cups water

1

medium potato, cut into chunks slightly bigger than bite size

2 -3

small chorizo sausages (Mexican or Spanish) or 2 -3 small linguica sausage (Portuguese)
salt & pepper
Soak the lentils in cold water for an hour prior to cooking.
Heat olive oil on low heat, add onion and garlic. Sautée until onion begins to look translucent and garlic browns a little.
Add water and lentils, bring to a boil and reduce to a simmer. Add potato.
Add chorizo, in one inch slices.
Cook until lentils get soft and expand and chorizo filling strains against natural casing, about 40-45 minutes.
Serve warm with crusty bread.