-Sylvie-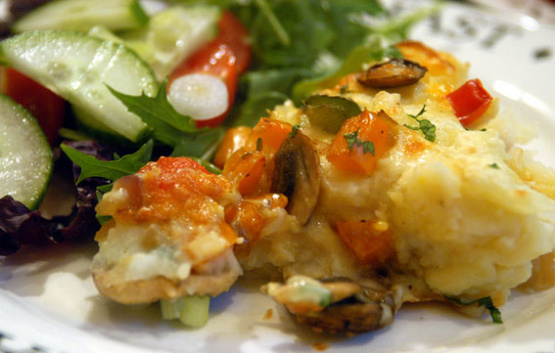 This came of the back of an Instant Mash packet. As I usually don't buy instant mash I use normal mashhed potatoes instead. Makes a great dinner or lunch and it's a good way to use up left-overs.

This was delicious and very low-fat (that is, depending on how you make your mashed potatoes):D It reminded me of a Spanish potato omelet (which is usually very oily and uses more eggs). I used about 1/3 cup of low-fat cheddar cheese, and replaced the mushrooms with scallions, otherwise no changes. This time I used instant mashed potatoes, but I also usually make my own. My only recommendation is to watch it carefully under the broiler - mine came close to burning after 3 minutes. Thanks, will make this easy recipe again.
3

cups mashed potatoes (you might want to add an egg and 2tbsp of flour to bind them if they are to runny)

1

small red pepper, chopped

1

small yellow pepper, chopped

6

mushrooms, sliced

1

garlic clove, minced

2 -3

tablespoons cilantro, chopped

1

egg, beaten
1⁄4-1⁄2 cup grated cheese
salt, to taste
pepper, to taste
Fry the veg in a non stick frying pan in a little olive oil for approx 10 minutes or until done.
After the first five minutes add the garlic and season with salt and pepper to taste.
When done, remove from pan and set aside.
Spread half of the mashed potato to cover the bottom of you frying pan, top with half the veg, add another layer of potato and top with the rest of the vegetables.
Sprinkle with cilantro and pour the egg over and top with grated cheese.
Fry over a medium heat for 10 minutes, without stirring or turning.
Remove from hob and place under a pre-heated grill/broiler for five more minutes.
Slice and serve with a side salad, steamed vegetables, fish or chicken.
Serves 2 as a main or 4-6 as a side dish.