Chickee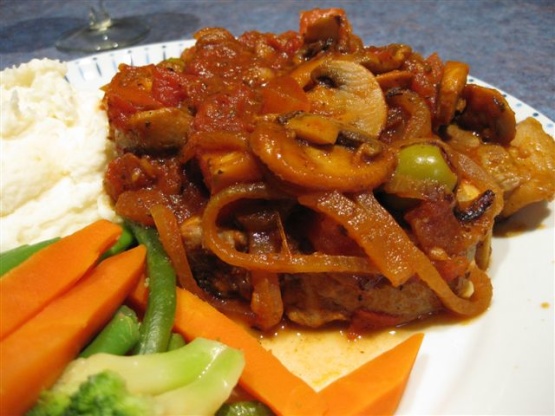 I love this dish, it's simple & tastes great. You can use fresh tomatoes if you like but the tinned ones give the dish more sauce so that's what I use. Goes great with my Buttered Wine Rice

When I went to make these I found I was out of capsicum! Aaaaugh! So I added one fresh tomato and put in some paprika. I added some green olives as well. All the same it was delicious! Easy to follow instructions. I'll make it again with the capsicum next time!
Cook chops in a little oil for 3-4 minutes, turn & cook for a further 3-4 minutes, remove from pan while you prepare sauce.
Add onion & capsicum to pan juices and cook gently until soft, approx 2 minutes.
Add mushrooms and stir over a medium heat until they begin to soften.
Add tomatoes, wine, & herbs & season to taste.
Allow mixture to cook for 2-3 mins before returning chops to pan to heat through, then serve.