-Sylvie-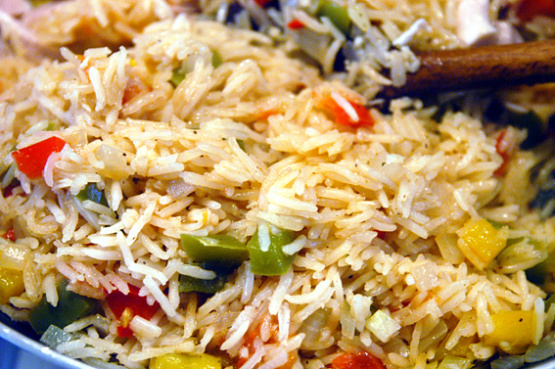 Thanks to Tammy & Annie's recipes #9417 & #12893 for inspiring me to invent this one :) Great way to use up the not fully grown peppers from your garden at the end of the season.

OMG I LOVED THIS RECIPE SOOOO MUCH! SO MUCH that I made it a point to write a review on a recipe FOR THE FIRST TIME EVER so that people will flock to it's goodness! OMG I CAN'T STOP EATINGGGGGGGG! THANK YOU CHIP CHIP!
3

tablespoons olive oil

1

cup rice, uncooked
1⁄4 cup onion, chopped

1

yellow pepper, small &amp,chopped

1

green pepper, small &amp,chopped

1

red pepper, small &amp,chopped

1

tomatoes, small,seeded &amp,chopped

3

cloves garlic, pressed

2

cups chicken broth

1

teaspoon salt

1

teaspoon pepper

1

tablespoon chili pepper

1

tablespoon cumin, ground
Saute rice in olive oil for 3 minutes.
Add onion, peppers, tomato, garlic,& chicken broth.
Bring to a boil.
Season with salt, pepper, chili pepper,& cumin.
Cover and simmer until rice is tender and liquid is absorbed, approximately 20- 25 minutes.