Spanish Garbanzo Beans and Tomatoes
Jostlori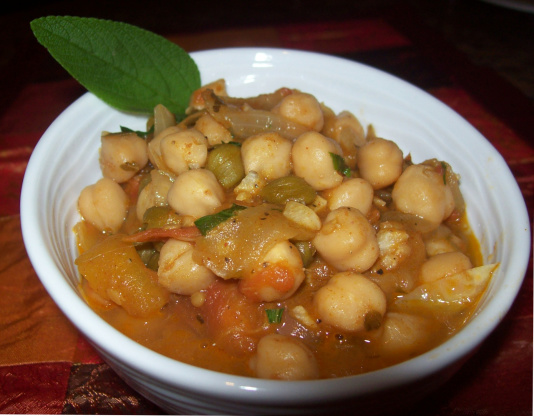 I took a Cooks illustrated recipe for tomatoes and combined it with ideas from other recipes on this site for garbanzo beans. Adding the smoked Spanish paprika added a subtle but exotic complexity. This is wonderful as a main dish for vegetarians (without the anchovies), as a base for grilled fish, or add sausage for meat-lovers - Please do not be afraid of the anchovies: they aren't 'identifiable' in this dish but do add to the overall flavor. Small portions would work well in a tapas selection. I recommend using grape tomatoes in this recipe.

Mmmmm, so good! I had to use regular tomatoes because there were no cherry tomatoes and I left out the optional sausage. The blend of flavors going on here is exceptional, especially the anchovies (which you really can't "taste" but add to the richness). We eat garbanzos regularly, and will definitely be adding this to our rotation. Thanks for posting!
Heat the olive oil
Chop the onion
Chop the anchovy fillets.
Mince the garlic.
Halve the grape tomatoes.
Saute the onion in the olive oil until soft and starting to take on color.
Add the garlic, anchovy fillets and tomato halves and stir until tomatoes start to soften.
Add the garbanzo beans and rest of the ingredients.
Cover and cook on low until tomatoes are soft, the liquid has thickened slightly, and the flavors have melded: about 10-15 minutes.
Taste for seasoning: add salt if needed.
Add sliced sausages before covering, or add whole grilled sausages at the end.