Spanish Fried Eggs With Potatoes and Chorizo (Huevos Fritos Con
Prep 25 mins
Cook 25 mins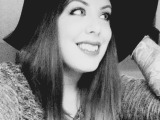 Deep fried in extra virgin olive oil, this fried egg is different from what you find in the U.S. With an unset yolk and crackly white edges, it is great with chorizo and potatoes for breakfast or any meal!
Directions
Peel the potatoes and slice thinly.
Heat the oil and fry the potatoes, adding the onions and parsley.
When tender, remove to serving platter. Cut into thin strips, fry the piquillo, and place them on top of the potatoes.
Add more olive oil to the pan if necessary. When oil is hot but not smoking, crack the eggs singly into a dish and slide them into the pan.
Splash oil over the egg as it cooks. Season with salt and pepper and remove it to drain. Repeat for each egg, and place the cooked eggs around the potatoes on the platter.
Slice the chorizo in thin slices and fry very briefly. Add to the platter and serve immediately.
This dish should serve several people, depending on their appetites. Even Spanish gourmets find that their families prefer this simple dish to their most delicate creations!
Reviews
Most Helpful
Made half the recipe feeding to of us. A hearty way to start the day. My chili was picked from the garden still green but with a nice amount of heat. 1 potato sliced thin really filled the large frying pan. I did use a russet. Gracias!

I halved everything except the chorizo. I couldn't find piquillo peppers so I used roasted red peppers. We thoroughly enjoyed this breakfast for dinner meal last night. Thanks for sharing. Made for Pick-A-Pepper challenge (ZWT 8- Spain/Portugal).