diner524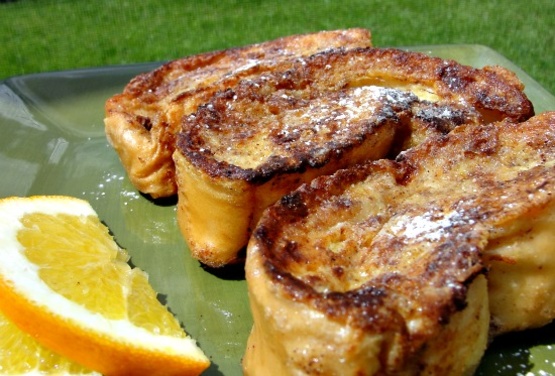 Want to use up that old bread rather than throwing it out? Try this recipe, the older the bread the better! I found this on a website and altered it for my family. Due to an egg allergy I cannot try this, but is smelt fabulous!
Wonderful twist for French Toast!!!! While the milk, vanilla, zest, spices and fresh OJ were warming, my house smelled fantastic, almost like a perfume, it was amazing!!! I used two day old Cuban bread and added it to the milk mixture, which really thickened once it cooled. I was worried that the bread would fall apart after soaking that long in the milk mixture, but it didn't due to the thickness of it, so very easy to dip it in the eggs to coat. Just loved this Spanish Toast, great flavors and it really was a crispy outside with a very light and tender inside. Thanks so much for sharing the recipe. Made for ZWT8.
If you are using ciabatta bread - 8 slices is the maximum.
In a saucepan, place the milk,sugar, zests, juices, vanilla and spices. Simmer for 5-7 minutes (it will start to smell amazing!).
Cool the mix for 5 minutes.
Add the bread all at once and leave it there to soak up all that goodness, allow a good 20 minutes.
Beat the eggs in a seperate bowl and in batches, carefully coat the bread.
In a large heavy based fry pan, add the butter (start with 2 tablespoons) and sizzle over a medium heat until fragrant.
Add 6 - 8 slices of bread (depending on the size of your pan - don't over crowd it) and cook for 3-4 minutes each side. Add more butter for each batch you make.
Repeat until all the bread has been fried.
Place the bread on a plate and sprinkle with icing sugar and serve warm.