Spanish Crusty Bread Rolls
fyrfli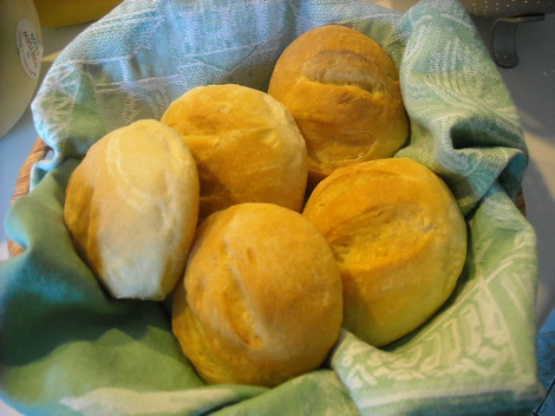 As a lover of all things Spanish, I begged my friend Pia for her recipe of the most delicious bread. As bread is served with every meal in Spain, I returned home desperate for more. Anyway, Pia gave me her recipe & it's a very good likeness (I think her olive oil is far superior than the ones available here in the UK). The bread is great for any meal, my favourite being breakfast, served with butter, jam, orange marmalade or with ham & or cheese. She also states that it's essential to pour yourself a glass of red rioja & put on a cd of the Gypsy Kings.....to get you in the mood!

I love this recipe, it always turns out sooooooo good. Ive made it many times now, love making rolls and bread, its very soothing. Plus the house smells so good and comforting while they cook! Often it doesn't need the total cooking time though, might just be my stove though. Yum yum yum! Thank you :-)
Mix the yeast in the warm water let sit in a warm place for 10 minutes.
Add the salt with the flour and sieve into a large bowl.
Using your fingers, mix in the extra virgin olive oil.
Slowly pour in the mixed yeast & work the dough with your hands (to a firm dough.
Place the dough on a flat floured surface . Knead the dough until it becomes firm and elastic.
Grease the bowl and place the dough inches Cover the bowl with a damp tea towel/cloth and set in a warm place until the dough has doubled in volume.
Once dough has doubled in size, remove the dough & knead it again on a floured surface, knock back to remove air pockets, until the dough feels smooth.
Return the dough to a covered bowl and let it rest 10-15 minutes should be sufficient.
Cut the dough as desired to form rolls or balls and place on greased baking sheet(s). Cut slits in top of bread as desired.
Let bread raise on baking sheet 30 minutes.
Place in a very hot oven (450 degrees F) for 30 minutes, or until the tops of the rolls become brown & sound hollow when knocked on the bottom. Remove the bread from baking sheet & allow to cool.