Spanish Cristianos Y Moros ( Beans and Rice Sidedish)
Mami J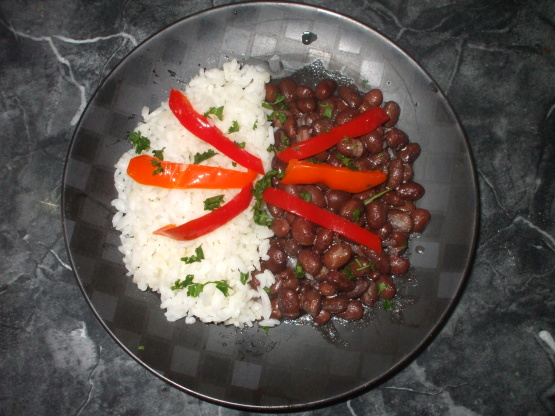 Another variation on the medieval Spanish classic of the black bean and white rice hot dish. A delicious main dish but it also has an interesting historical significance. This is from the Beans and Grains' cookbook by James McNair. Can be served as a main or side dish.

This is a delicious and easy way to make rice and beans. I added the finely chopped onions to the dressing and let them 'marinate' for a while before adding them to the rice and beans. As suggested, I didn't use the whole amount of olive oil. I will definately make this again! Made for zwt5
Soak the dried beans, cook until tender and set aside.
Meanwhile, combine all the dressing ingredients and blend well. (This can be done several hours in advance to allow the ingredients to marinate.).
Cook the rice until done.
Drain the warm beans and transfer 3 cups to a large bowl.
Toss the black beans carefully with half of the white onion and half of the dressing.
In another bowl, transfer the rice and toss with the remaining onion and dressing.
On a large serving platter, arrange the beans on one side and the rice on the other side.
Cover and set aside at room temperature for about 1 hour, or refrigerate for up to 2 days.
Adjust seasonings if necessary and garnish with red pepper and parsley (or cilantro) if desired.