Chickee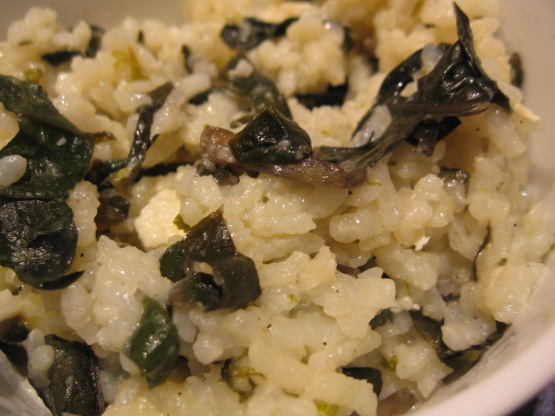 Risotto with a Greek twist. Wonderful served with grilled salmon or trout.

A really light tasty side dish, easy to prepare and great for my Greek styled dinner party. Leeks were really expensive so I chopped up some green onions instead, and I used vegan chicken style stock as I'd run out of vegetable. Love the parsley at the end. It was a side to moussaka and happily devoured! I liked not having to stir all the time, essential when preparing other dishes! Thanks!
Heat the olive oil in a large pan.
Add the leek and garlic and cook, stirring, until the leek is soft.
Add the rice and stir until the rice is coated in oil.
Add the vegetable stock and simmer, covered with a tight-fitting lid, over low heat for 15 minutes.
Remove the pan from the heat and let stand, covered, for 5 minutes.
While the rice is cooking, remove the Swiss chard leaves from their stalks; discard the stalks.
Slice the leaves thinly and wash well.
Place the Swiss chard in a separate pan and simmer, covered, until limp, about 5 minutes.
Drain.
Stir the Swiss chard, lemon juice and parsley into the rice.
Add salt and pepper to taste.