Spanakopita Breakfast Eggs
2Bleu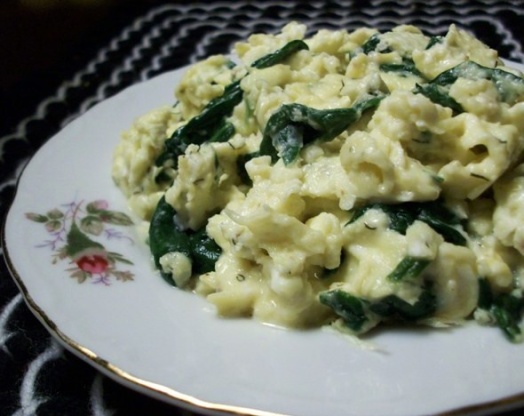 If you love spinach pie, say no more. It's not just for breakfast, as you can have it anytime. It's best made with fresh spinach, but you could use frozen as well. Spanakopita for dinner? Try Tip's Spanakopita (Spinach Pie)

So good and SO easy!<br/> Left out the feta because of personal preference, but still had wonderful flavor. Nice change from plain ol' scrambled eggs. Thanks, 2Bleu!
In a medium skillet over moderate heat, melt the butter. Add the green onions, spinach, and dill stirring occasionally, until spinach has wilted.
In a bowl whisk together the eggs, cream cheese , feta, dill, and pepper. Pour mixture over the spinach.
If scrambling the eggs, just stir until you reach desired texture of eggs and serve. Transfer to a serving plate and sprinkle with the chives or scallions.
OPTIONAL OMELETTE: (Make 2) Stir the eggs gently pushing the outer edges inward till the eggs begin to solidify. Leave it be for a minute or two but continue to shake pan a little to keep it loose from the pan.
When eggs are 2/3 of the way done, carefully 'flip' the pan with a quick jerk. If you don't know how to do that, you can slide the omelette onto a baking sheet and broil the top for a minute to continue cooking.