Bergy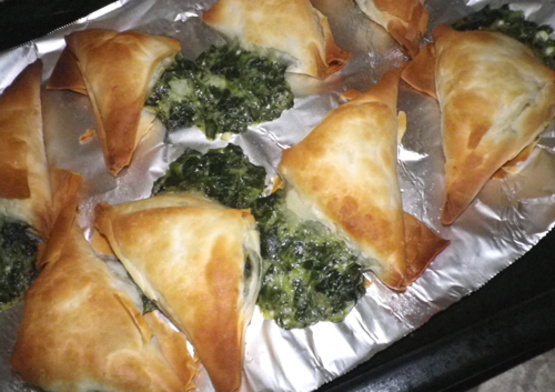 Common all over Greece, stuffed phyllo pastries make a memorable meze, or appetizer. These small triangles are stuffed with feta and spinach. You might also see them stuffed with feta and herbs, or with lamb and spices and rolled into cigar shapes or tied like knots. Serve these pastries with a glass of ouzo over ice. Adapted from Williams-Sonoma Lifestyles Series, Small Plates, by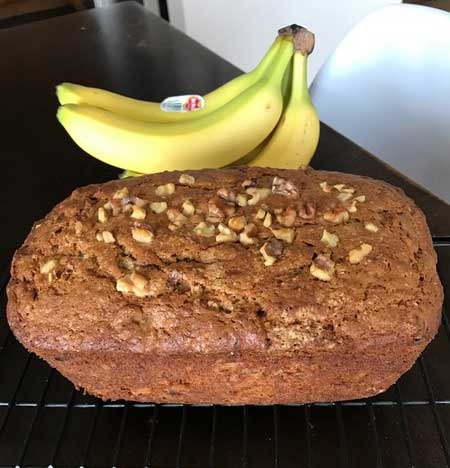 This recipe is authentic -- it uses mostly feta and parmesan and doesn't rely on ricotta or other filler cheeses. The taste took me back to Greektown. I took my first batch to a party and everyone asked for the recipe. I froze (Before baking) the second batch and have been reheating a few triangles here and there for a snack for myself and my toddler. What more could you ask for? An impressive appetizer AND a healthy, toddler approved finger food. Note: Fresh is better, but a well-drained, 10 oz pack of frozen spinach will do in a pinch.
Heat a large fry pan over medium-high heat.
Add the spinach with only the rinsing water clinging to the leaves, cover and cook until wilted, about 1 minute.
Drain well on paper towels, then squeeze out as much of the remaining liquid as possible.
Place in a large bowl and add the feta cheese, kefalotiri cheese, eggs, mint, and nutmeg.
Stir well to combine.
Season with salt and pepper.
Preheat an oven to 375°F.
Lightly butter a baking sheet.
Cut the stack of phyllo sheets lengthwise into 3 equal strips.
Remove 1 strip and cover the remaining phyllo with a slightly dampened kitchen towel to prevent it from drying out.
Place the strip on a work surface and brush lightly with melted butter.
Place another strip on top.
Brush the second strip lightly with melted butter.
Place a heaping teaspoonful of the filling about 1 inch in from the bottom of the strip.
Fold the uncovered end over the filling on the diagonal to form a triangular shape.
Bring the bottom of the triangle up against the straight edge.
Continue folding in this manner until the tip of the strip is reached, forming a triangular pastry.
Brush lightly with melted butter.
Place on the prepared baking sheet.
Repeat with the remaining phyllo and filling.
Bake until golden, about 15 minutes.
Remove from the oven and transfer to a platter.
Serve immediately, warm or at room temperature.