Pamela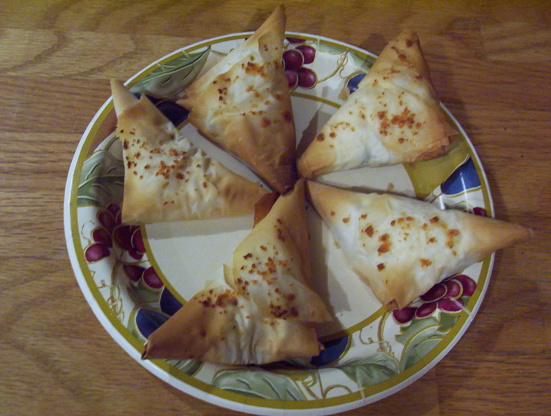 This is a great recipe! It doubles an appetizer or as a side dish. I never know how many, exactly, come out of this recipe. Serves 6-8 as an appy, 4-6 as a side dish.

Very nice! I did learn that I am not good at getting these to look pretty, but they were tasty. I would have liked a stronger cheese then parmesean, because I found the cheese flavor a little milder then I would like. Yummy though, and while I am not over my fear of phyllo, I am on my way!
Heat 2 T olive oil in a saucepan and cook the onion until just translucent.
Remove from heat, stir in the spinach, egg, cheese, salt and pepper.
Mix well.
Take 2 sheets of phyllo and place on a large cutting board, one on top of the other.
Cut lengthwise into 4 equal strips.
Place 1 T of filling at the end of each strip.
Fold like you would a flag into triangular shapes.
Place on cookie sheet.
Repeat until filling is gone.
Brush tops with olive oil, and sprinkle with parmesan cheese.
Bake in a 425 degree oven for 10-15 minutes.
You want the tops golden brown.
Serve with Bleu Cheese Dressing for dunking.