MsPia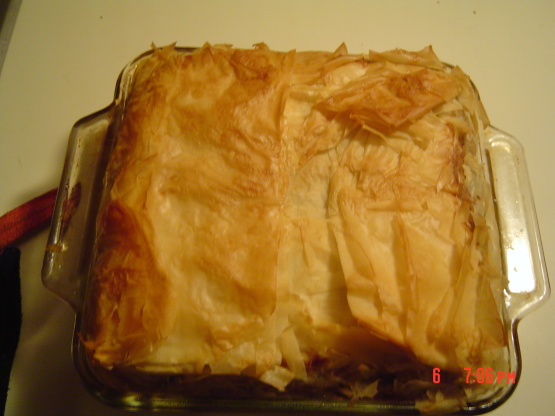 If you want to make this ahead of time, keep it wrapped in the refrigerator, and then serve it at room temperature or reheated.

I love trying out different recipes for Spanakopita, this one was very good, really the only change I made was I added in some fresh garlic in with the onions, great recipe MsPia, thanks!...Kitten
Preheat the over to 375 degrees. In a medium saute pan on medium heat, saute the onions with the olive oil until translucent and slightly browned, 10 to 15 minutes. Add the salt and pepper and allow to cool slightly. Squeeze out and discard as much of the liquid from the spinach as possible. Put the spinach into a bowl and then gently mix in the onions, egg, nutmeg, Parmesan cheese, bread crumbs, feta and pignoli. Butter an ovenproof, non-stick, 8-inch saute pan and line it with 6 stacked sheets of phyllo dough, brushing each with melted butter and letting the edges hang over the pan. Pour the spinach mixture into the middle of the phyllo and neatly fold the edges up and over the top to seal in the filling. Brush the top well with melted butter. Bake for 1 hour, until the top is golden brown and the filling is set. Remove from the oven and allow to cool completely. Serve at room temperature.