Spam, Pineapple and Blue Cheese Tortilla Pizza
rpgaymer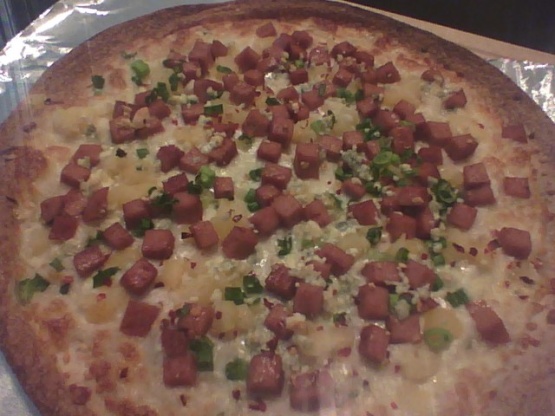 Now this is my idea of pure comfort food. The tortillas make the crispiest, thinnest pizza crust possible and the combination of Spam, blue cheese and pineapple is surprisingly tasty. You can use your own pizza crust recipe in this, but if you love a thin crust pizza then I'd urge you give the tortillas a try. This recipe can be easily halved to make one pizza, but I always like having leftovers.
Preheat your oven to 425°F.
Heat the olive oil in a large pan or skillet over medium-high heat. Add the cubed Spam, and fry a bit until golden and browned, about 8-10 minutes. Remove from heat and set aside until your oven is done preheating.
Brush both sides of your tortillas with olive oil. Be sure to get the edges brushed well, as they will crisp up first. Place each tortilla on a cookie sheet.
Now construct your pizzas: Sprinkle shredded cheese on tortillas, followed by pineapple, Spam cubes, green onions, blue cheese and red pepper flakes, in that order.
Bake for 8-12 minutes (Start checking on the pizza at about 8 minutes, and once the edges are well-browned it's ready). Slice and serve.