teresas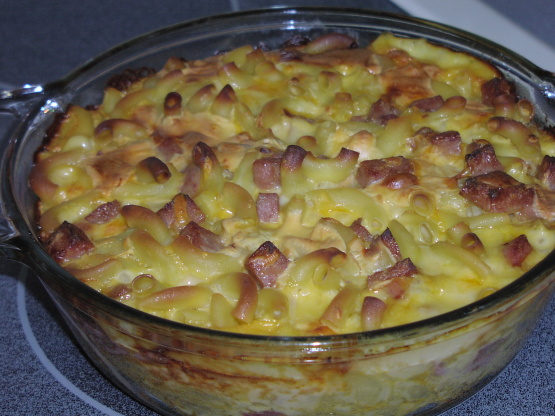 Don't be scared of the Spam. This is one of my favorite hotdishes!

too salty for my taste. and while I don't mind eating spam when I'm using up my tornado shelter rations every 4 years, I'm not overly impressed with it as a meat to base a dish around.
2

cups macaroni

1

cup grated cheddar cheese

1

(10 1/2 ounce) can cream of chicken soup
10 1⁄2 ounces cream or 10 1⁄2 ounces milk

1

(12 ounce) can Spam
1⁄2 tablespoon onion flakes

10 -12

slices American cheese (about 10-12 slices stacked together)
Cook macaroni as directed on package.
While macaroni cooks, cut up cheese slices and spam.
Mix milk or cream, soup, cheese, spam, and onion flakes. Stir toghether and add the noodles. Bake at 325 for 1 1/2 hours.