Spam & French Fries Meatloaf
Pneuma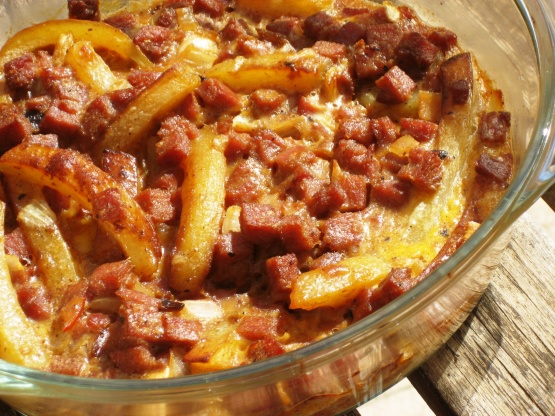 Delicious but unusual meatloaf developed by me in my own kitchen. The majority of my friends and family love it, but there are a few haters, so be warned that this is not a meal for unadventurous eaters.

Top Review by Pneuma
We love french fries and spam. So we like these both together and enjoyed it for breakfast. At first, DH didn't like me to mess up the spam and wanted to eat it as is, but he didn't regret it when he tasted it. Recipe was easy to follow and simple. This is also nice when served warm. Thanks! Made for PAC Fall 2008.
Don't put the Spam in a blender or a food processor. We don't want paste. Use leftover fries or leftover hashbrowns. Do not use mashed potatoes as they impart a mushy texture.
Fry the Spam until it is dry and slightly crunchy, draining oil as necessary.
Combine all ingredients and pat into a 9-inch aluminum pie pan.
Bake at 350°F for 1 hour until done.
Sprinkling this with your favorite cheese in the last 5 minutes of baking is a pleasant addition.