Pam-I-Am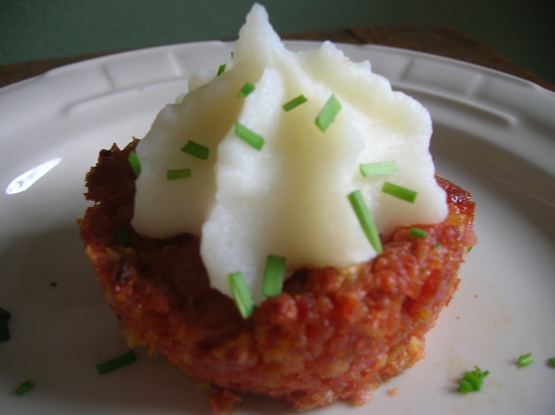 SPAAAAAAAAAAAAAAM, wonderful SPAM!! Just weird enough to be good.

Spam-tastic!! Even if I did make the mistake of adding all the glaze ingredients into the meat mixture. I also cut the milk back to 1/2 cup as the others thought the cupcakes were hard to get out of the pan. They did come out easy with the help of a little fork. I think I needed more butter in my mashed potatoes to help the top brown as I broiled them.
Preheat oven to 350.
In a large bowl, grate the SPAM.
Add eggs, oats and milk, and mix well.
Lightly spray a 12- cup muffin tin with cooking spray.
Fill each cup 2/3 full with SPAM mixture.
Using back of spoon, press mixture into tins.
In a small bowl, whisk together the brown sugar, mustard, vinegar and water.
Lightly spoon glaze mixture over SPAM mixture.
Bake for 35 to 30 minutes or until set.
Remove cupcakes from oven.
Place oven rack 2-3 inches from top heat element (broil).
Top each cupcake with potatoes.
Broil cupcakes until lightly browned, 2-3 minutes.
Let cool in tin for 5 minutes before serving.